Preventing and treating viruses with the power of medicinal plants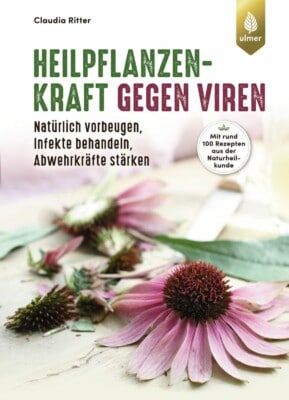 With medicinal plant power against tricky viruses
In times of viruses, it is a good idea to look for remedies that can help to protect oneself gently and without side effects against attacks and infections caused by viruses.
Naturopathy provides a wealth of medicinal plants, spices and wild herbs for this purpose.
Plants can neither change location nor actively defend themselves. Instead, in the course of evolution, they have developed various strategies and effective substances to defend themselves against enemies.
These particular plant ingredients have direct antiviral effects, also in humans: they can stimulate the defense cells of the human immune system or inhibit the multiplication of viruses.
In-depth knowledge of viruses and the diseases they cause
In the practical guidebook Heilpflanzenkraft gegen Viren (Power of medicinal plants against viruses), the experienced alternative practitioner Claudia Ritter provides sound basic knowledge about viruses and the diseases they cause.
It presents medicinal plants that have proven their worth in the fight against pathogens, such as bear's garlic, angelica, woad, nasturtium, garlic, olive leaf, peppermint, coneflower, ribwort, thyme, water astragalus or rockrose.
The application forms of these medicinal plants are various: Whether tea infusions, tinctures, liniments or compresses, in the prescription part the suitable in each case one is presented.
Claudia Ritter
Power of medicinal plants against viruses
Prevent naturally, treat infections, strengthen defenses.
With about 100 recipes from natural medicine.
128 S., 67 color photos, paperback
Stuttgart: Publishing house Eugen Ulmer, 2020
ISBN 978-3-8186-1320-4
More information and order possibility
About the author
Claudia Ritter is a naturopath, lecturer on naturopathic topics and author of several naturopathic books. She runs a naturopathic practice with a focus on diseases of the immune system.