Pollen allergy and hay fever.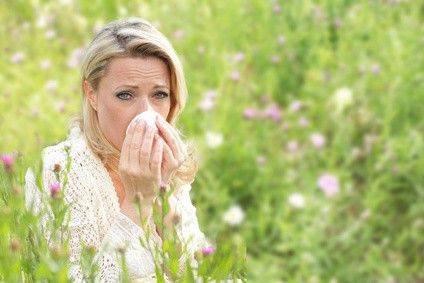 Pollen allergy and hay fever
Every year in spring when the leaves start to sprout, the sun shines again and it gets warmer, that's also when pollen allergies start to occur. A pollen calendar is a good way to see approximately when pollen will start flying again. This they do not of course on the day exactly but nose, eyes and also often the throat will notice if it goes off.
Pollen allergy – Is prevention possible?
There is the so-called desensitization. Here a small amount of allergens (allergy test is done beforehand) is injected under the skin once a week. Often a red, itchy spot then forms. Finally, the body defends itself against this substance due to its pollen allergy. Gradually this is supposed to cause that the organism gets used to the allergens and the allergy becomes less.
Advantage: the therapy lasts at least a few months, sometimes 2 years.
Disadvantage: Each week a physician date lines up, the costs do not pay the health insurance company.
When the pollen is on the way
There is a range of allergy tablets which ensure that the receptors involved in allergy are virtually occupied. So the allergens can no longer "dock" and the pollen allergy is proportionately or even completely suppressed. It can be that with this medicamentous therapy side effects such as tiredness, mouth dryness and further take place. More details can be found in the respective package insert.
It has proven itself, in the pollen time, to wash the hair in the evening. This prevents them from reaching the face overnight and triggering the allergy here. The bed linen should be washed once a week in any case during this time, in case of strong complaints this is also possible more often.
OPC grape seed extract as an alternative against allergy symptoms
OPC grape seed extract has been mentioned again and again in the last few years. In Germany OPC is still relatively unknown and is offered as a food supplement (preferably in capsules). In France, however, it is already prescribed as a medicine. OPC can be used for all forms of allergies. According to studies, OPC has an inhibitory effect on the enzyme L-histamine decarboxylase.
This effect has the effect of a natural antihistamine. However, OPC is not an agent that relieves symptoms in the short term. Above all, it strengthens the immune system, so that allergic symptoms do not occur at all, or only in a weakened form. Here the long-term intake (shortly before the start of the hay fever season) counts.
The study used a dosage of only 50mg of OPC per day. Most OPC capsules already have a higher dosage (more than 200mg OPC per capsule). If you want to try OPC for your allergies and don't know exactly which preparation to buy, then take a look here.