The right tooth shade for dentures for every patient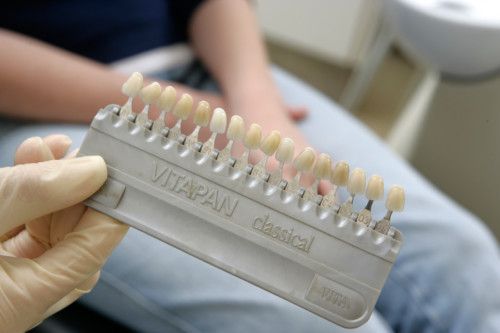 The right tooth shade for dentures
"The crown please in my tooth color ", wishes Holger M. Easier said than done. Because white is more than a color. Dental technology has a wide range of typical tooth shades available. The right shade can be selected for each patient. But which is the right one for the individual?
Tooth colors – Striking the right note
To prevent dentures from looking artificial, their color should match that of the natural teeth as closely as possible. "Doing justice to individual nuances in tooth color requires a great deal of experience, precision and sensitivity," says Thomas Lüttke, master dental technician and board member of the Association of German Dental Technicians Guilds (VDZI), from his day-to-day professional experience.
"Whether patients are satisfied with their dentures depends not only on whether they function perfectly, but also on whether they also blend in perfectly with the dentition in terms of appearance. Aesthetics is therefore an essential quality feature."
Determine the tooth color
To visually determine tooth color, dentists and dental technicians use color scales with different, standardized color sample teeth. You compare the color samples with the patient's teeth. How to determine the optimal color for dentures. The selected pattern determines the basic color, which in most cases is still changed individually.
©proDente e.V./ Florian Hofmeister
Every color impression is subjective. Interference factors can falsify the results and should therefore be eliminated as far as possible. Shade selection is best carried out in daylight or in rooms with artificial lighting adapted to daylight. Both the room and the clothing should be neutral in color. Patients should also appear without makeup. Lipstick in particular is taboo.
Digital measuring instruments can also help with shade selection. They calculate the color values they are looking for independently of environmental influences and subjective factors. However, human perception cannot be completely replaced by technology. This is why Ludger Figgener, university professor em. for prosthetic dentistry and biomaterials from Münster, combine digital determination and visual perception – in particular also for checking the digitally determined values.
Layer by layer to the perfect denture
Whether digitally, visually or as a combination of both: The determined tooth shade is clearly coded in the result and transmitted with other relevant information to the executing dental laboratory. The dental technician fabricates the prosthesis according to these specifications.
In order to reproduce the interplay of light and color nuances, dental laboratories work with elaborate procedures. Because every dental prosthesis, such as a crown, bridge or inlay, is made by the dental technician as a unique piece of work. The best way to reproduce nature is with the aid of modern ceramic materials.
Layer by layer, the dental technician applies ceramic materials of different densities and shades. This is how he achieves a color impression that is as true to nature as possible. Metal frameworks of dentures can also be veneered with several layers of tooth-colored ceramics.
If individual teeth are discolored, the dentist can provide them with veneers. The dental technician also produces these wafer-thin veneers in the laboratory from ceramic to match the patient's tooth color exactly.
Initiative proDente e.V. – The facts
Five associations representing the entire dental spectrum in Germany are involved in the initiative proDente e.V.:
The German Dental Association (BZÄK)
The Free Association of German Dentists (FVDZ)
The Association of German Dental Technicians Guilds (VDZI)
The Association of the German Dental Industry (VDDI)
German Dental Trade Association (BVD)
Why this initiative?
proDente has set itself the goal of imparting sound specialist knowledge in the fields of dentistry and dental technology. To support dentists and dental technicians, the initiative aims to provide dedicated education for patients.
proDente wants to show the value of healthy and beautiful teeth. Above all, the focus is on educational work from prophylaxis to prosthetics. For dentists and dental technicians, proDente presents a comprehensive range of services to facilitate communication with patients.