Sonic toothbrushes – The modern way of dental hygiene – Fully in trend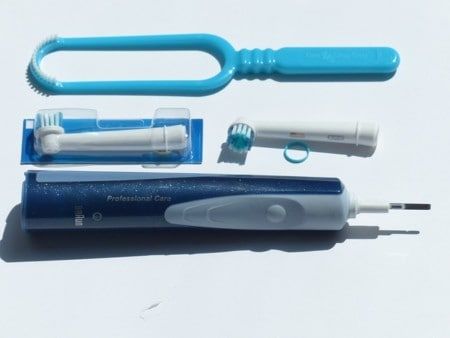 Sonic toothbrushes, the modern way of dental hygiene
Today, a snow-white smile is just as much a part of the ideal of beauty as a wrinkle-free face or a flat stomach. This makes the topic of dental care all the more important for an increasing number of people. It seems as if we have never before given so much thought to healthy, beautiful teeth. To achieve a true Hollywood smile, the majority increasingly relies on the latest technology.
One technology in particular is currently in demand: the sonic toothbrush. Sonic toothbrushes are, so to speak, the further development of electric toothbrushes, which at the time completely turned the dental care market on its head. But what makes the sonic toothbrush so special and how effective and gentle it really is?
How sonic toothbrushes work
The cleaning effect of a sonic toothbrush is not based on rotation as with a conventional electric toothbrush, but on a special vibration. The top models currently achieve values of over 60.000 vibrations per minute. An electric sound transducer is used instead of an electric motor.
This achieves a frequency of over 250 Hertz. The teeth are therefore not cleaned by the sound waves, as is often thought, but due to the vibrations of the brush head.
Is brushing with sonic toothbrushes really more effective??
Studies have shown that brushing with a sonic toothbrush is not faster, but it is much more effective compared to other types of toothbrushes. The correct brushing technique plays an even greater role with sonic toothbrushes than with conventional toothbrushing.
A little practice is usually required at the beginning until you have internalized the optimal use of the device. With a sonic toothbrush, brushing should only be done with minimal pressure or the brush head should simply be placed and guided along the tooth surface.
Modern models have special introductory cleaning programs and a pressure control to make it easier for newcomers to get started and to prevent excessive brushing pressure from the very beginning. With the help of quadrant and 2-minute timers, it is also extremely easy to adhere to the recommended brushing time per tooth quarter or the total brushing time.
It is also important for effective and hygienic cleaning of the teeth to change the brush head regularly, approximately every 3 months.
How gentle are toothbrushes with sonic technology??
In principle, sonic toothbrushes are extremely gentle, as only a minimum of brushing pressure is required. However, the correct use is of course also the basic condition to ensure gentle brushing. If this is the case, gums and tartar are spared. Sonic toothbrushes are indeed considered the ideal solution for people with sensitive teeth or gums.
Even with fixed braces, crowns, bridges or implants, sonic toothbrushes are recommended, because they work thoroughly and yet gently.
How expensive is a good sonic toothbrush??
As a beginner, it is recommended to pay attention to the technical equipment of the sonic toothbrush, less to accessories and special functions (apart from a timer and possibly a pressure control). The number of vibrations per minute and the quality of the rechargeable battery are particularly important here, as are the reports on the cleaning effect from users in practice.
Technically good models without a lot of "bells and whistles" can be found for as little as about 20 euros. The market leader is clearly Philips with its Sonicare range.
There is a lot of room to move upwards in terms of price, but from around 0-80 euros there is no longer any technical increase; instead, such high-priced models come with special accessories, such as a travel case, a UV cleaning device or special additional brush heads.
Conclusion: Is it worth switching to a sonic toothbrush??
If you currently brush your teeth with a conventional manual toothbrush or a "normal" electric toothbrush, you should definitely consider a model with sonic technology. Although it takes some practice to brush teeth well and gently with a sonic toothbrush, the change can be worthwhile in any case.
The higher price compared to other models is absolutely justified by the convenient, fast and gentle use as well as the effective cleaning effect. If you are unsure, you should start with an inexpensive model. Good entry-level models can be found for as little as 20-30 euros.